This blog post is also featured as a guest blog on the www.one-search.co.uk website.
At some stage in every financial modelling career, there comes a time when you're required to present the results of your analysis. I've seen lots of modellers present, and these 10 mistakes keep coming up. Avoid these presentation pitfalls, and hopefully you'll find your career progressing faster!
1. REMEMBER THAT THE FUTURE IS A RANGE, NOT A POINT.
The future of any business or project is a range of possible outcomes. The question is how likely is each outcome? When you present the results of your modelling as a range of possible outcomes it helps everybody to think through the risks, including the unknown unknowns.
I'm amazed at how many presentations talk about a single point base case estimate of some metric, often IRR.
Sometimes to 4 decimal places.
Just because your base case model is showing an IRR of 14.2345% – don't be tricked into thinking that this is what is actually going to happen.
The only thing you can say with any confidence about your base case is "this is what isn't going to happen".
2. TALK ABOUT THE BUSINESS, NOT THE MODEL.
Nobody is there to talk about the model. It's your job to translate what the model is telling you into business insights, and then communicate them effectively. Spending time walking somebody through your spreadsheet is rarely a good use of time. Unless they've asked for it specifically, and even then . . . !
3. DON'T BELIEVE YOUR MODEL.
You are smarter than your model. When you are running sensitivities or changing your model, make sure you have a hypothesis first about how the model is going to react. If the model doesn't react the way you expect, your first position should be that the model is wrong.
Here's an example from some presentations I saw this week. Analysts were required to run sensitivities at different levels of gearing. This requires making two changes in the model. 1. the gearing assumption, 2. the headroom in the term debt facility. If students change the leverage, without increasing the headroom, the model doesn't draw down the debt. The result was a chart of cover ratios at different leverage levels that looked like this: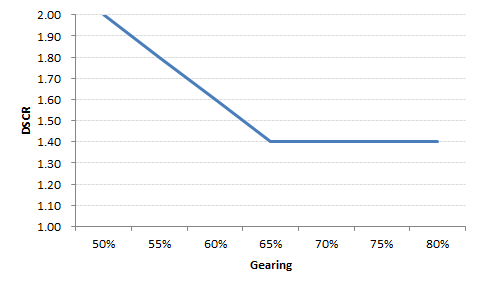 The base case gearing was 65%. The model worked at lower levels of gearing as the model was able to draw down less debt, but not at higher levels due to the headroom constraint.
Quite a few students made this mistake; but instead of trusting their intuition that when you increase debt, cover ratios must decrease, they believed what the model told them, and set about trying to explain it. There were all sorts of wonderful reasons why increasing debt didn't mean lower coverage ratios.
Rather than rationalising reasons that your model doesn't act the way you expected it to, you should be looking for an explanation of what the model is telling you.
4. THINK ABOUT WHAT INTERESTS THE AUDIENCE, NOT WHAT INTERESTS YOU.
Interesting to model doesn't mean interesting to your audience, and it doesn't mean it's material to the business.
Just because something was "interesting to model" doesn't mean it should automatically go into your presentation. In fact it's a relatively reliable indicator that it shouldn't.
5. THINK "SO WHAT" FOR EVERY SLIDE YOU PUT IN FRONT OF AN AUDIENCE.
Every slide must have a "so what". If you don't know what the point of a slide or graph is, drop it from the deck. Ask this question of every piece of information you put in your deck.
Some analysts think that if you just present enough data then people will get it. If you're that analyst you're not going like this: when you make a presentation you're telling a story. While you want to show data, your audience is longing for insight. You want to chart every line in your model, your audience wants to understand what decisions they need to take.
While we're on the subject of charts:
Label your axes
Avoid chart junk
Use the appropriate chart for the type of data you are presenting. If you don't know how to action points 2 or 3, Stephen Few will teach you.
6. BLUF.
Bottom Line Up Front. Lead with your conclusions. If the purpose of your presentation is to ask for an investment of $1.5 billion dollars in your infrastructure project, start with that.
Say "The purpose of my presentation is to ask for $1.5 billion to invest in Project X. I'm going to talk you through the rationale for the project and we're then going to look at the key risks, and how we are going to manage those risks".
In college you're told to end with your conclusions. In business you have to start with them. Don't talk for 20 minutes keeping people guessing about what it is that you actually want them to do.
7. DON'T BLUFF.
The only acceptable answer to a question you don't know the answer to is "I don't know the answer to that question". No matter how slick you think you are, your audience can smell your BS a mile off. They will then apply a BS discount factor to everything that comes out of your mouth from that point onwards.
Conversely, if you don't know, and you're honest about it, it builds trust. Unless you don't know the answer to any of the questions they ask, in which you shouldn't be making the presentation in the first place.
8. RECOGNISE OPTIMISM BIAS.
Your audience want reassurance that you understand the risks of the business venture you are modelling. Blindly telling them that everything is going to be OK is not going to cut it. Your infectious enthusiasm for the sector is going to make your presentation more enjoyable, (see point 10), but it's not going to persuade anybody to part with $1.5 billion unless they know that you know where the risks lie and how you are going to manage them.
9. DON'T READ FROM YOUR SLIDES
It's a slow painful death for your audience. If the presentation is worth doing, it's worth doing properly. Learn your material. Or don't turn up.
10. PUT SOME LIFE INTO IT.
Don't phone in your performance.
Get out in front of your audience. Use a remote slide clicker – they cost a few dollars. Make eye contact with every single person in your audience, in turn, constantly. Vary your voice. When you're making a presentation, you control the energy in the room. If you're not putting energy into the room, you're taking it out. Choose.